Discover 7 top TOURS IN YELLOWSTONE NATIONAL PARK! Luxury, self-guided drives, hiking adventures & more. Dive deep into Yellowstone's wonders!
Embark on a thrilling journey through Yellowstone National Park with our comprehensive guide to seven tailor-made tours!
Whether you're a luxury seeker, a self-guided adventurer, or an enthusiastic hiker, we've got the perfect tour for you. Dive into the opulence of a private guided tour, complete with gourmet lunch and breathtaking viewpoints.
Or, take control with our self-guided audio driving tours, uncovering hidden treasures at your own pace. For the nature enthusiasts, our 6-mile geyser hiking tour awaits, offering an immersive experience into Yellowstone's raw beauty.
Each tour is meticulously crafted to ensure an unforgettable adventure, unveiling the wonders of one of America's most iconic national parks.
Ready to explore? Check out our diverse tour options and start planning your Yellowstone adventure today!
Experience Yellowstone in Luxury
Indulge in a truly luxurious experience as you discover the breathtaking natural wonders of Yellowstone National Park. Travel in style and comfort in a top-of-the-line BMW or Cadillac, with your expert guide at the wheel, taking you to the most dramatic viewpoints and wildlife-watching hotspots.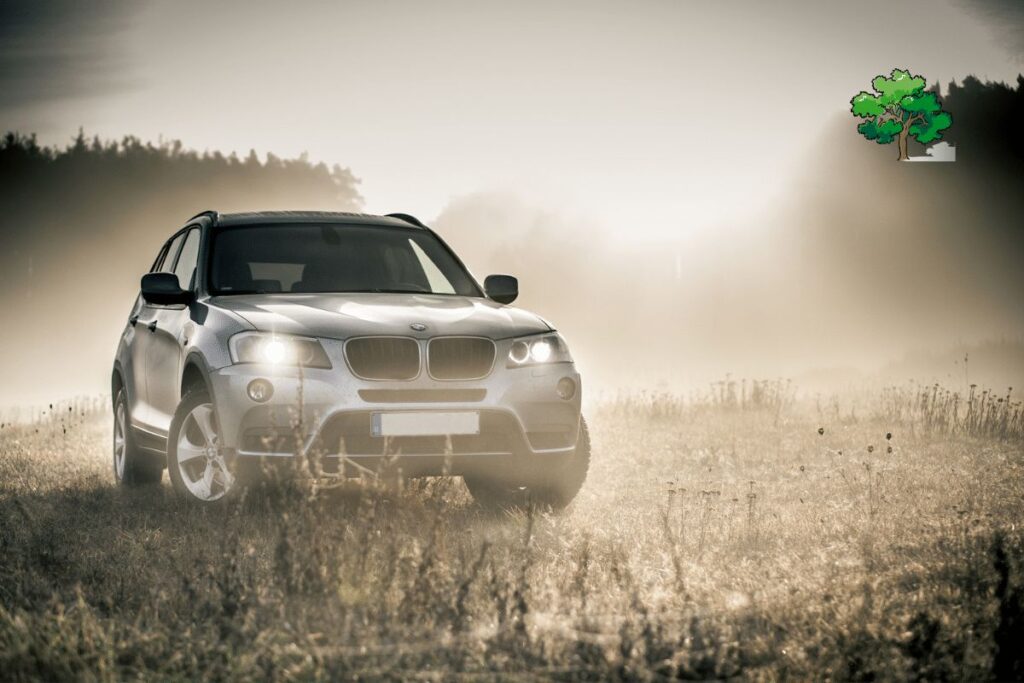 Embark on a journey of discovery, following the Firehole Lake Drive and making stops to admire the Mud Volcano, Norris Geyser Basin, and Old Faithful, all while taking in the incredible views over the Yellowstone Grand Canyon. Enjoy a total of seven stops, each offering magnificent views and photo opportunities.
As you explore, savor the delights of a delicious homemade packed lunch, complete with soft drinks, all included in the tour. And with this being a private tour, you'll have the undivided attention of your guide, ensuring a truly personalized experience.
Experience the ultimate in luxury and exclusivity with this "ALL INCLUSIVE" Luxury Yellowstone National Park Tour
Find out more about this tour here.
The first of it's kind  Audio Driving Tour
Embark on an exciting adventure and explore the highlights of Yellowstone and Grand Teton National Parks at your own pace! With this Self-Guided Audio Driving Tour, you can navigate your way to see what you're most interested in, or use a planned-out itinerary for a hassle-free experience. And the best part? The audio tour works even if your smartphone doesn't have service or Wi-Fi.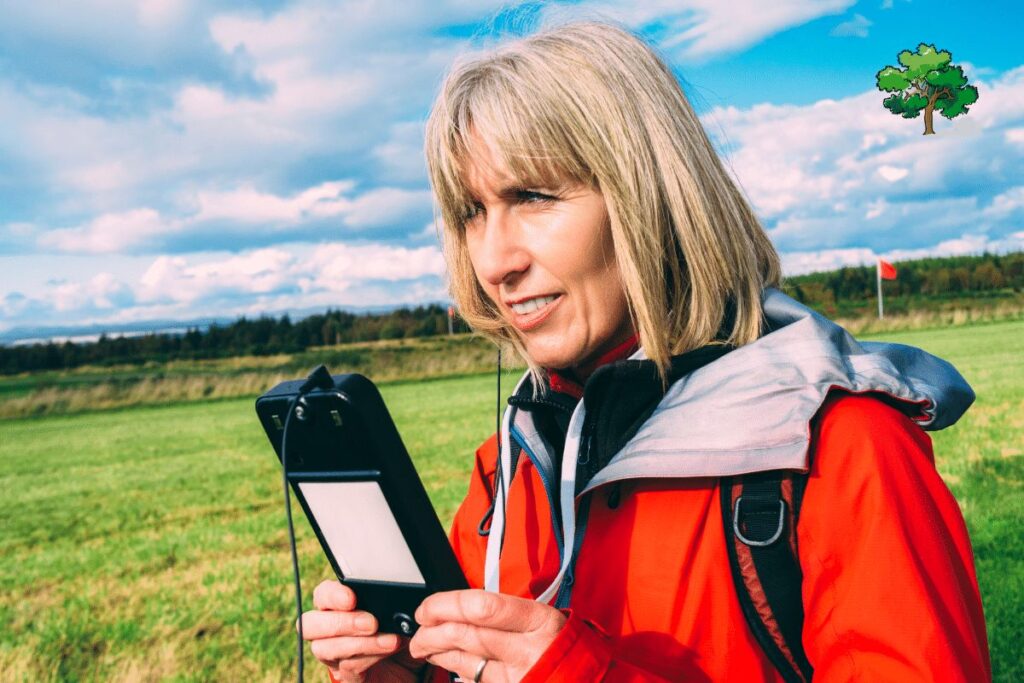 See two of America's most popular national parks in just one day, and move at your own pace, spending more time at places that interest you the most. The tour includes stories, tips, and directions that play automatically based on your location, making it perfect for families and travelers on a budget.
The tour package comes with an App and Yellowstone & Grand Teton Audio Driving Tour, Email, chat and call support, In-App travel tips, tour planning advice and suggested itineraries, and the ability to design your own itinerary based on your time and interests.
Experience the freedom of exploring at your own pace, and discover the hidden gems of these national parks with this Self-Guided Audio Driving Tour. Get ready for an adventure of a lifetime!
Grand Teton and Yellowstone Self-Guided Driving Tour
Are you ready for an adventure of a lifetime? Look no further than the breathtaking beauty of Yellowstone and Grand Teton National Parks! These sister parks offer the ultimate national park experience, from Yellowstone's famous geysers to Grand Teton's majestic peaks.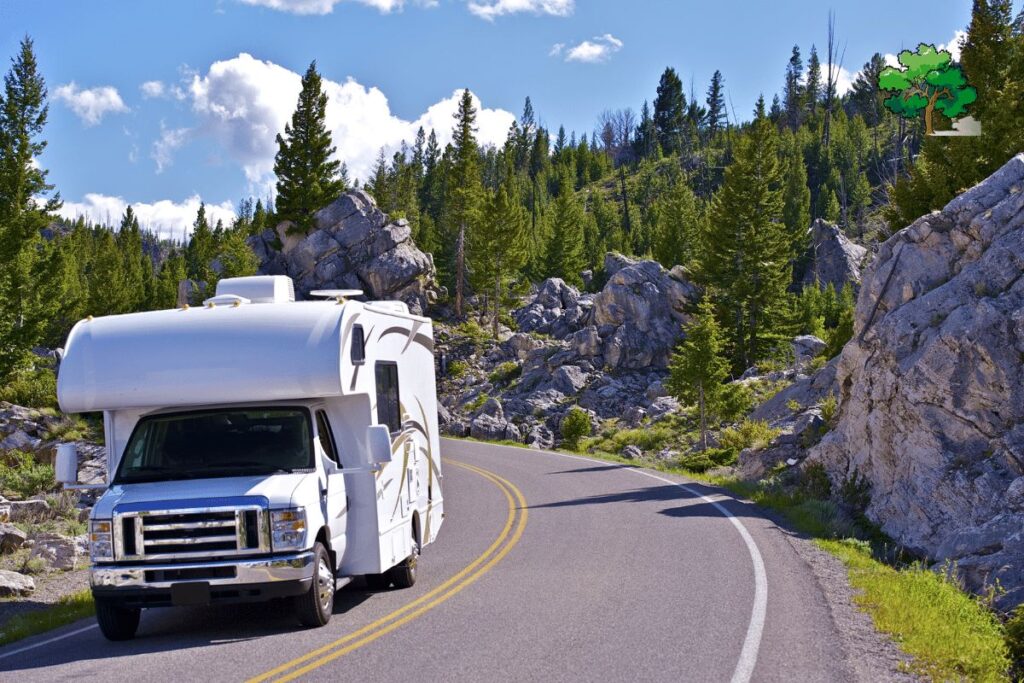 Imagine standing in awe at the prismatic hot springs and astonishing waterfalls that these parks have to offer. Get up close and personal with the only wild bison herd on the continent and take in the picturesque glacial lakes, historic homesteads, and dramatic mountain passes.
To make the most of your visit, we recommend purchasing one tour per car. This way, everyone in your group can listen at the same time and enjoy the experience together. Within 30 minutes of purchasing your tour, we'll send you a unique password and an app to download. Simply enter the password, launch the app, and follow the instructions at each stop. Our recommended route and speed limit will ensure the best experience possible.
Please note that this tour is not an entrance ticket to attractions along the route. Be sure to check pandemic rules and opening hours before your visit. And the best part? The tour comes with lifetime validity, so you can enjoy it again and again! So pack your bags and let's hit the road for an unforgettable adventure in Yellowstone and Grand Teton National Parks!
6-Mile Geyser Hiking Tour in Yellowstone with Lunch
Embark on an adventure of a lifetime as you explore the raw and untamed wilderness of Yellowstone National Park on foot. Leave the crowds behind and discover hidden geothermal gems as you hike through the Biscuit Basin Trailhead, passing hissing geysers, steam vents, bubbling mud pots, and steamy hot springs.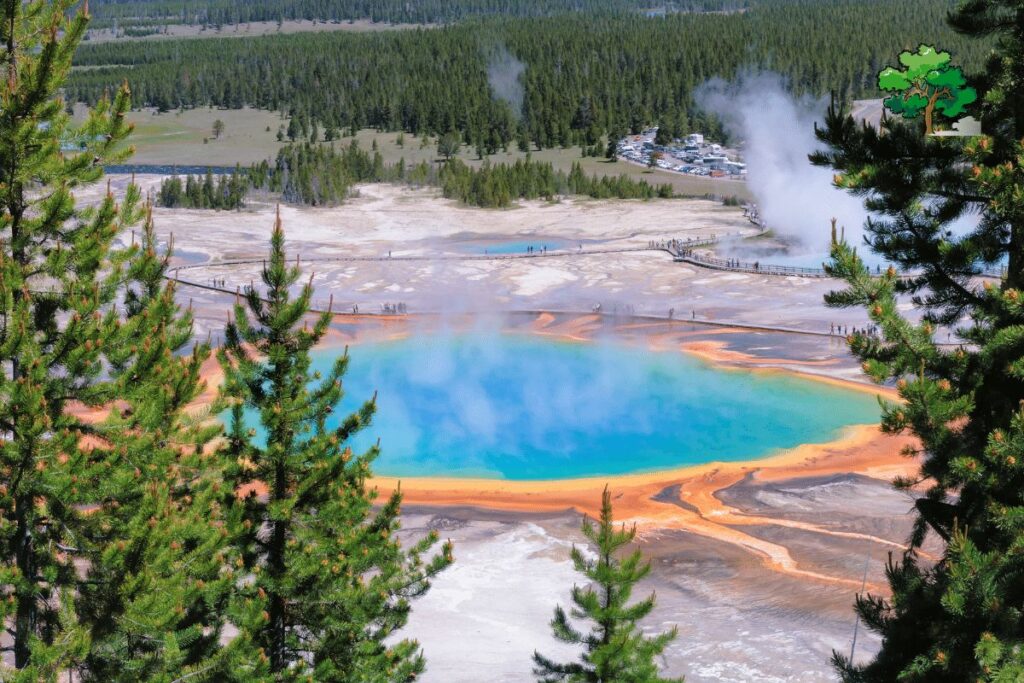 Keep an eye out for bison and bear as you trek along the Firehole River, and refuel with a delicious, hearty picnic lunch provided by the tour. 
With an experienced guide leading the way, you'll have access to magnificent views of geysers, mud pots, and hot springs that can only be found by hiking off the beaten path. 
Don't miss this opportunity to experience the raw beauty of nature in a small-group setting, with a maximum of nine hikers. Book your spot now on the 6-Mile Geyser Hiking Tour in Yellowstone with Lunch today!
Wildlife Hiking Adventure in Yellowstone with Lunch
Get ready for an unforgettable adventure in Yellowstone National Park! Join a team of certified and experienced guides as we take you on a thrilling 6-7 mile hike through the park's hidden gems.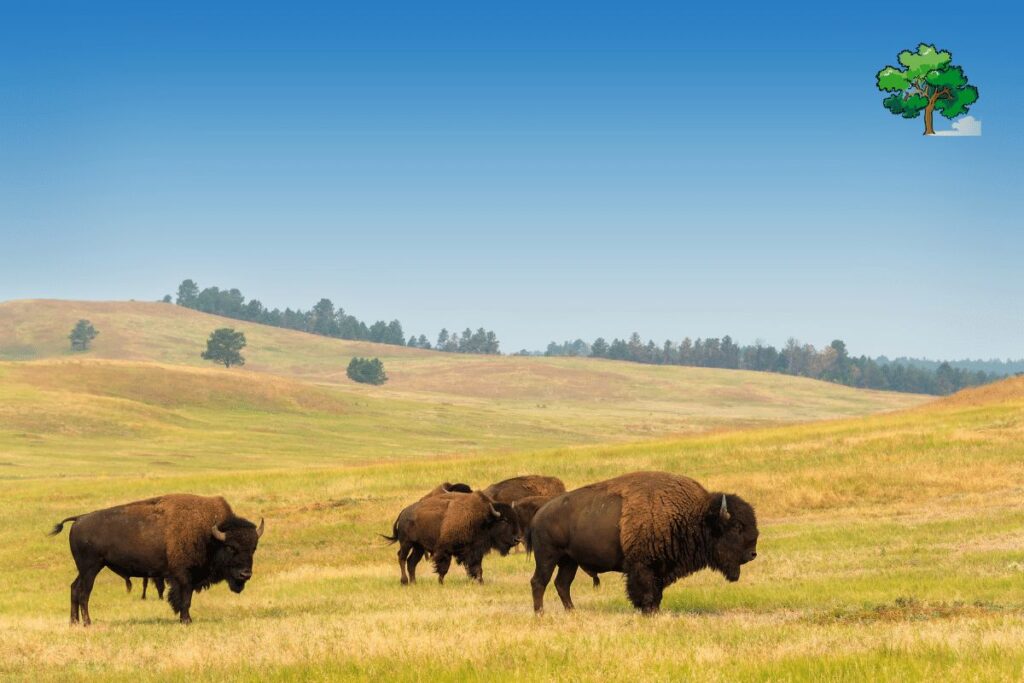 Be prepared to see all kinds of wildlife, from bison and elk to moose, wolves, bears, badgers, and coyotes. The friendly guides will provide an interactive and educational experience, sharing their knowledge of the park's flora and fauna as we hike. 
With the help of provided trekking poles and backpacks (available upon request), and safety as top priority,  the guides make sure you have the time of your life. Plus, enjoy a delicious lunch and snacks to keep you fueled on this adventure of a lifetime!
Private Yellowstone Wildlife Sightseeing Tour
Embark on a truly exclusive wildlife experience in Yellowstone National Park with this private tour. Forget about navigating the massive park on your own, let your dedicated driver and guide take you to the best habitats to increase your chances of spotting magnificent animals such as wolves, elk, pronghorn sheep, birds of prey, and even bears. This full-day tour is designed to maximize your chances of seeing Yellowstone's amazing wildlife while also taking in its stunning scenery.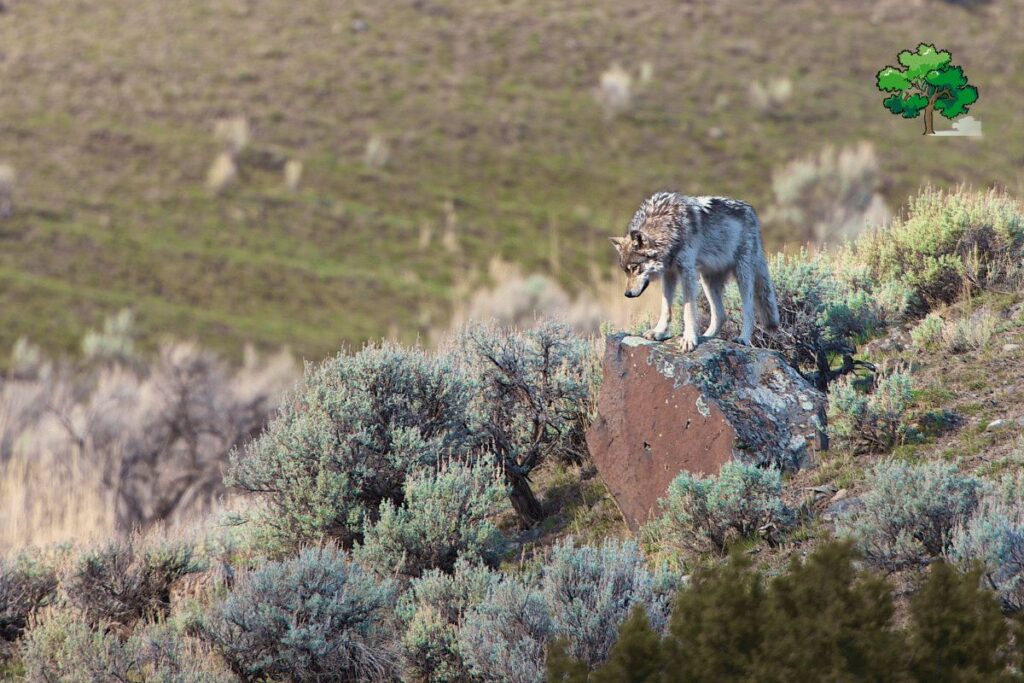 With your private guide and vehicle, you'll have a personalized day in the park, focusing on the northern loop of Yellowstone and exploring various wildlife habitats. You'll also have the use of provided binoculars and a spotting scope to get an up-close view of the animals.
The tour includes a delicious lunch and gratuities. Pick up is available from your lodging option in Island Park, ID, West Yellowstone, MT, or select locations inside Yellowstone National Park (extra fees may apply for picking up inside the park). We will pick you up from Old Faithful, Canyon Village, and Madison Junction.
Highlights of the tour include:
Lamar Valley: Travel across Lamar Valley, also known as the American Serengeti, looking for bison, elk, pronghorn, wolves, and bears.
Mammoth Hot Springs: Make a stop to look into the canyon and search for bighorn sheep, peregrine falcons, osprey, and other animals that make these cliffs their home.
Petrified Tree: Take a stop here to look at a 50-million-year-old redwood tree and search for black bears at the same time.
This tour is perfect for wildlife enthusiasts, nature lovers, and anyone looking for a truly exclusive and personalized experience in Yellowstone National Park. Don't miss out on this once-in-a-lifetime opportunity to see some of the most majestic animals in their natural habitat.
Full-Day Guided Yellowstone Day Tour
Embark on an unforgettable journey through the heart of Yellowstone National Park with incredibly thorough and knowledgeable park guides. These guides know the area like the back of their hands and can show you all the must-see spots during your visit while providing world-class environmental education for you and your group. They take the tour with you as they get out and walk at all stops just as much as you; they do not drop off with a time to meet back in the van! They have fun, they know a lot, and they are very thoughtful to guest needs. Join them and you won't regret it!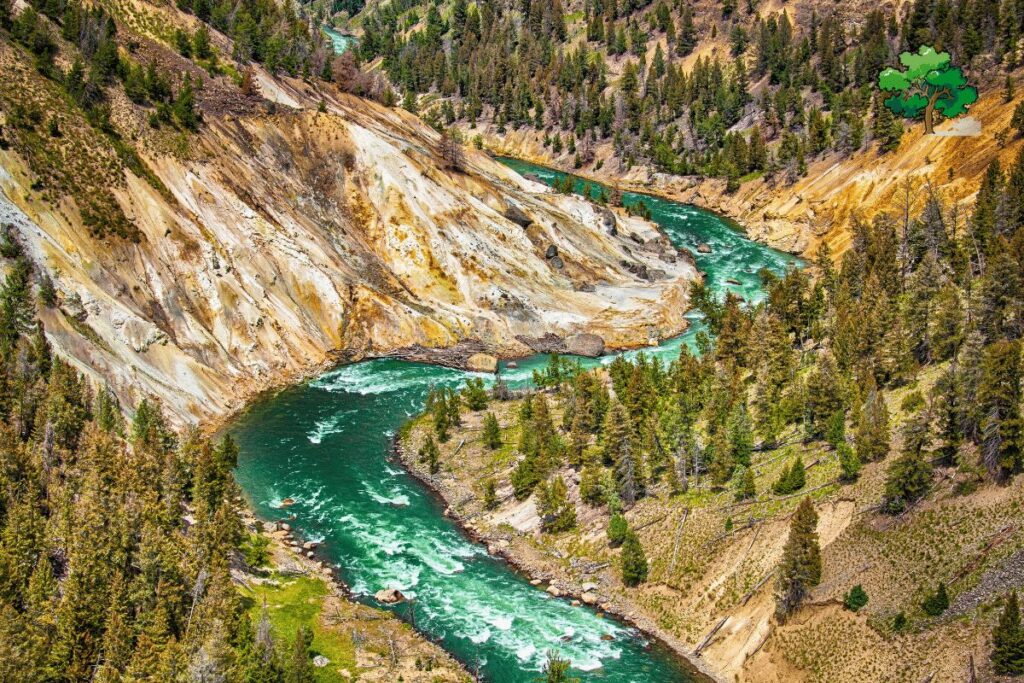 This full-day tour includes snacks, bottled water, binoculars, and all fees and taxes. Guests can head directly to their preferred meeting point or request pickup. Meeting points include hotels and Airbnb's originating in Cody, Wyoming, as well as anywhere on the way to Yellowstone including Wapiti, Wyoming and guest ranches along the Northfork Highway.
During the tour, guests can expect to see large herds of buffalo, and the occasional sighting of moose, wolves, and golden eagle as they drive through one of the vast open plains within Yellowstone. They will also visit the Grand Canyon of the Yellowstone, where they will see two massive waterfalls from multiple viewpoints. Other highlights include a visit to Artist Point, where they will see the most amazing view of the Lower Falls of the Yellowstone River, and Norris Geyser Basin, the oldest, hottest and most dynamic part of Yellowstone National Park, home of the largest geyser in the world.
Additionally, guests will also experience the iconic Old Faithful geyser basin, the Grand Prismatic Spring, the largest hot spring in the world, Dragon's Mouth Springs, Fountain Paint Pot, and the Yellowstone Geysers – Mud Volcano Area. The tour will also take guests to see the largest alpine lake in North America, Yellowstone Lake, and West Thumb Geyser Basin.
Join us on this exciting full-day tour and experience the natural wonder of Yellowstone National Park.
Conclusion 
Yellowstone National Park is a truly unique and breathtaking place, and there are many tailor-made experiences available to help you explore it. Whether you want to get up close with wildlife on foot or observe the park from a bird's eye view, these seven tailored experiences will give you an unforgettable experience at Yellowstone National Park. 
Many of them also offer knowledgeable guides to make sure that your journey into this majestic wilderness is nothing short of amazing. So go ahead and pick one of these incredible activities for your next adventure in Yellowstone National Park!