Best Yosemite entrance guide: 5 options, key attractions, routes from major cities, and tailored advice for memorable visits.
Navigating Yosemite's vast expanse starts with a pivotal choice: selecting the best entrance. Your decision can dictate the sights you'll see, the roads you'll traverse, and the memories you'll forge.
This guide doesn't just list the entrances; it's your insider look into what each gateway holds — from the nearest towns for last-minute supplies to the must-visit attractions that define each region.
Whether you're setting out from LA, San Francisco, or even Las Vegas, we've got tailored advice on the ideal entry point. Ready to optimize your Yosemite trip right from the start? Let's dive in.
Overview of Yosemite's 5 Entrances
Spanning nearly 1,200 square miles of sheer wilderness, meadows, granite cliffs, ancient giant sequoias, and a vast biodiversity, Yosemite National Park stands as a testament to nature's grandeur.
However, accessing this natural masterpiece requires some prior knowledge about its entrances, each ushering visitors into distinct realms of the park.
Hetch Hetchy Entrance (Hwy. 120)
Nestled on Route 120, the Hetch Hetchy Entrance opens the door to the Hetch Hetchy Valley.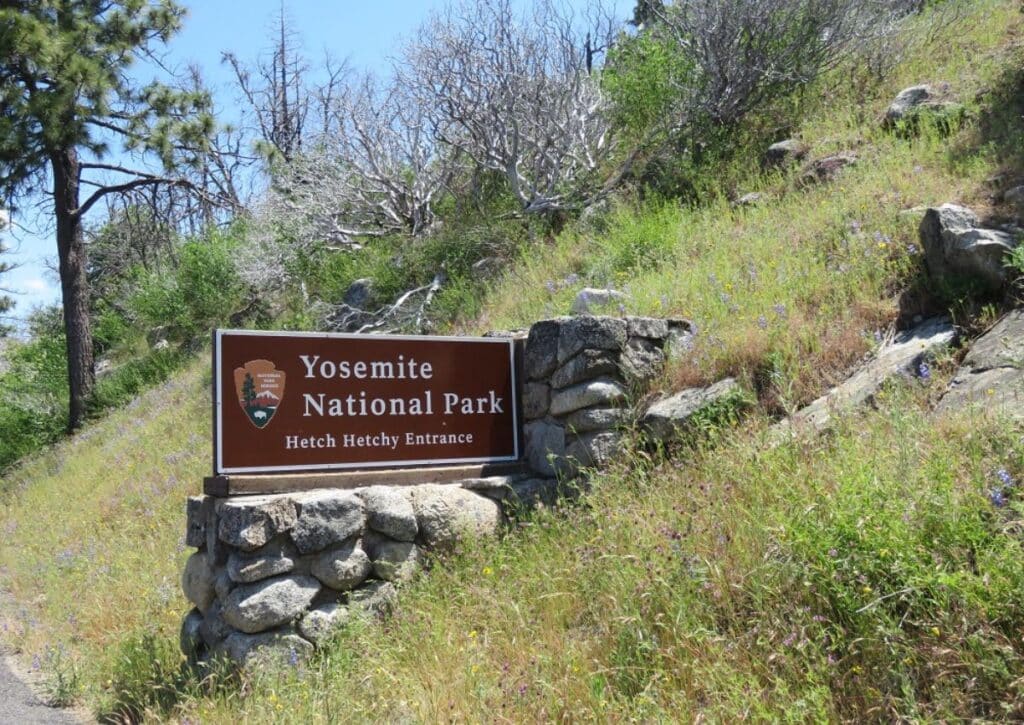 This lesser-visited area of the park is a serene escape and is renowned for its stunning reservoir and multiple trailheads, offering visitors a more secluded experience.
Big Oak Flat Entrance (Hwy. 120)
Sharing the same highway as Hetch Hetchy, the Big Oak Flat Entrance acts as a conduit to Yosemite's northern reaches.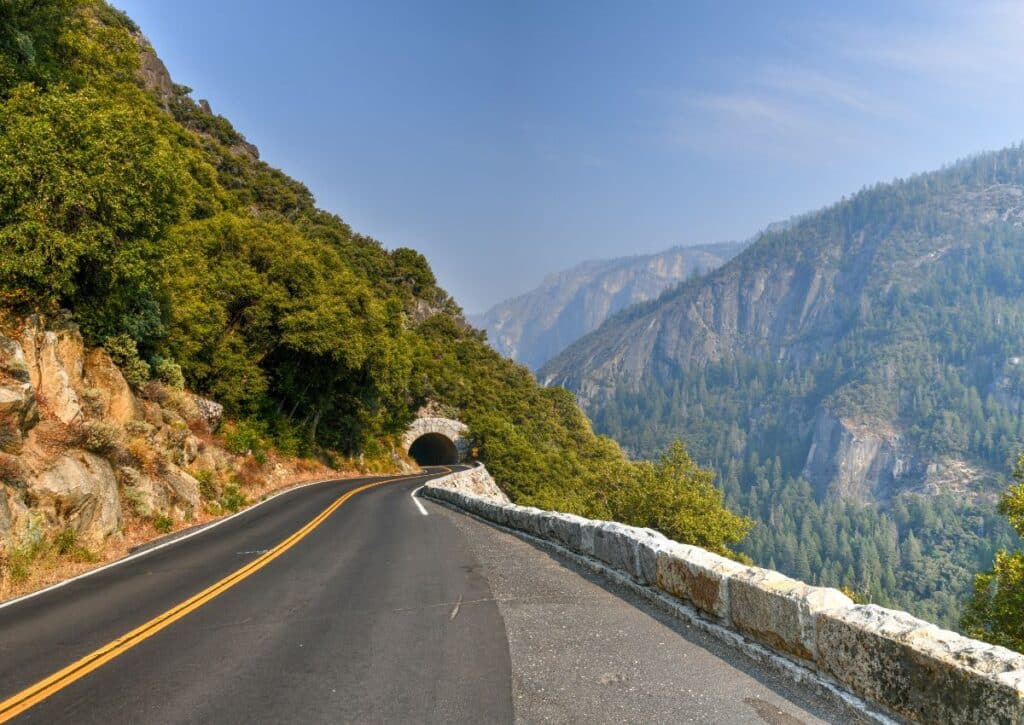 Through this entrance, visitors can access the famous Tuolumne Meadows and gain insights into the park's rich history at the Big Oak Flat Information Station.
Arch Rock Entrance (Hwy. 140)
As you drive on the scenic Highway 140, the Arch Rock Entrance welcomes you to the heart of the park: the Yosemite Valley.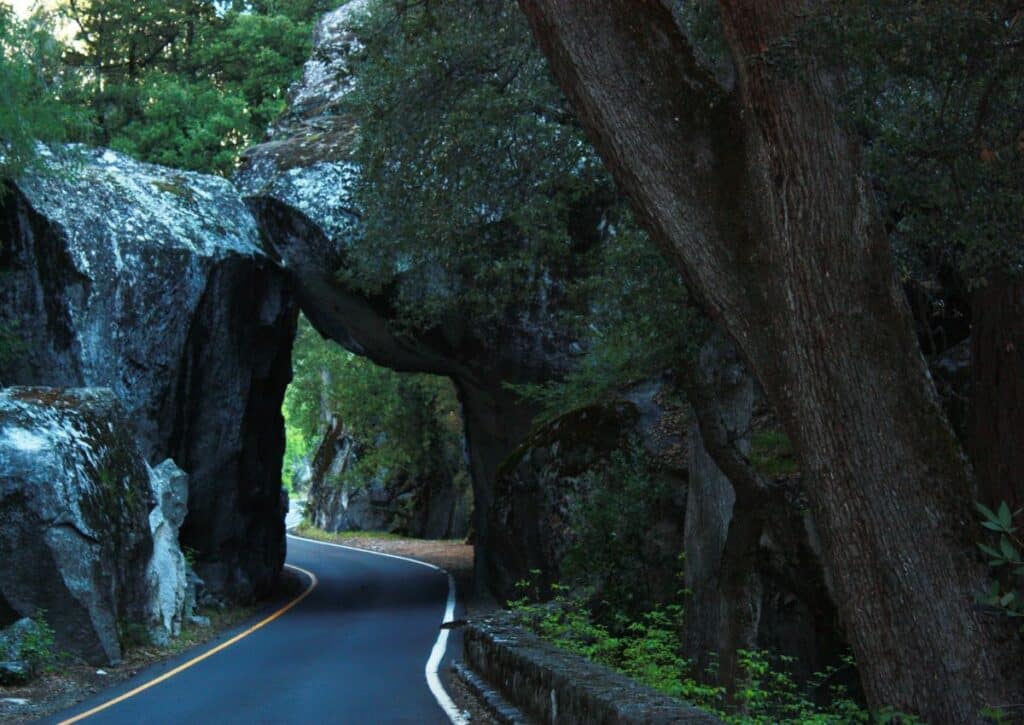 Revered for its iconic landmarks like El Capitan, Bridalveil Fall, and the Merced River, this entrance is often the first choice for many first-time visitors.
South Entrance (Hwy. 41)
Strategically positioned on Highway 41, the South Entrance is particularly beneficial for those coming up from southern California.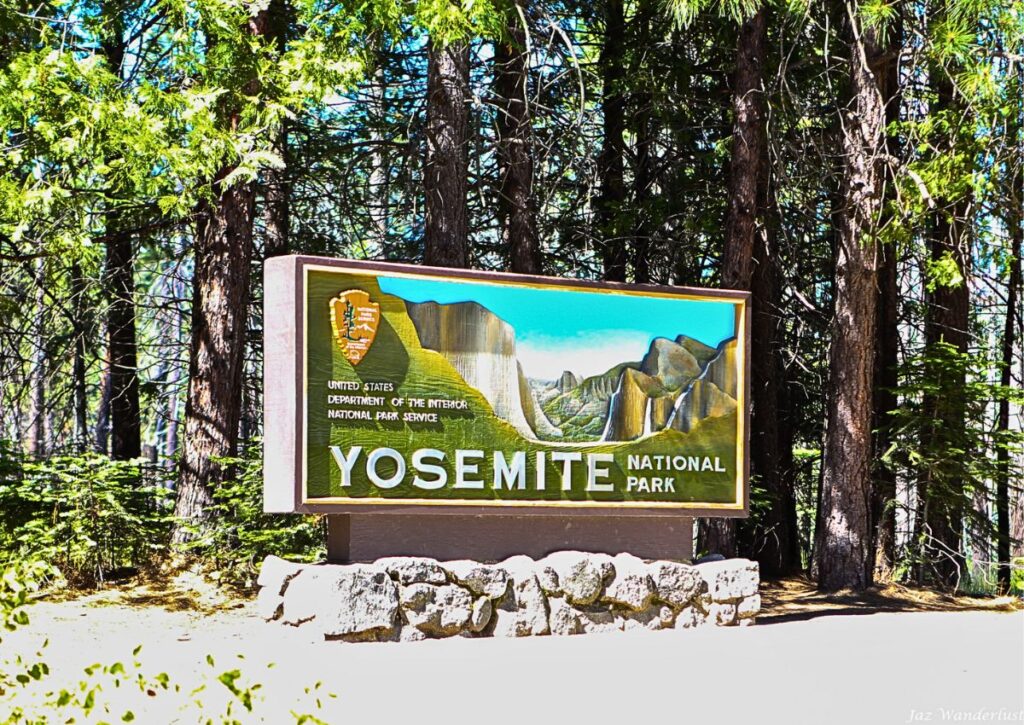 Beyond this gate lies the Mariposa Grove of Giant Sequoias, where ancient trees remind visitors of the timeless beauty that nature holds.
Tioga Pass Entrance (Hwy. 120)
Standing at a staggering elevation, the Tioga Pass Entrance on Route 120 is a seasonal gateway leading to the park's high country.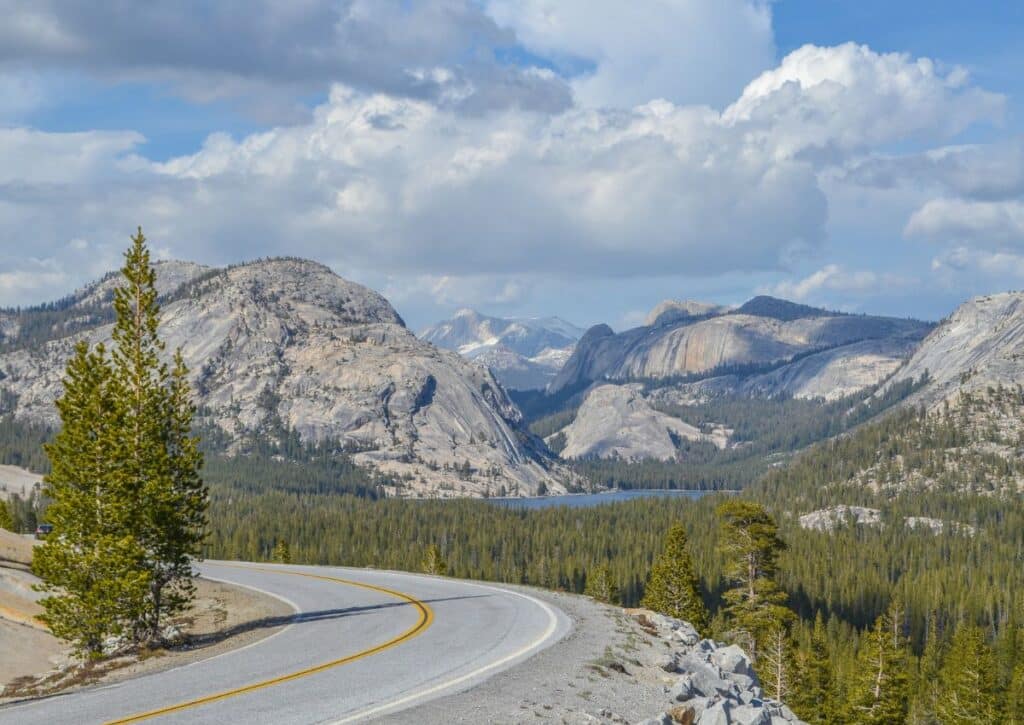 Closed during the snowy winter months, it offers unparalleled views of Yosemite's alpine landscape during the warmer seasons, including the mesmerizing Tioga Road and surrounding high Sierra peaks.
Entrance Fees
Yosemite, like all wonders, comes at a price, albeit a small one considering its offerings. For most vehicles, the entry fee hovers around $35, granting a 7-day pass to all of Yosemite's splendors.
However, prices can vary, especially for different vehicle types or if opting for an annual pass. To ensure you're adequately prepared and informed, a quick visit to Yosemite's official website can provide the latest on fees and any seasonal advisories.
Entrances to Yosemite National Park and Their Highlights
Navigating the sprawling expanse of Yosemite National Park begins with a key decision: choosing the right entrance. Each of the five main entrances offers unique perspectives and access points to the park's diverse landscapes and attractions.
Hetch Hetchy Entrance
The Hetch Hetchy Entrance, positioned on Yosemite's northwest boundary, offers a distinct and somewhat quieter approach to exploring the national park. Upon arrival, the town of Groveland sits conveniently nearby, serving as a potential pit stop for visitors. Here, one can refuel, grab a bite, or simply stretch their legs before diving deeper into Yosemite's wilderness.
Route & Supplies:
For those embarking on extended excursions or needing last-minute provisions, Mather is a reliable source for supplies. Whether it's camping gear, snacks, or basic amenities, visitors can ensure they're well-prepared for the adventures ahead.
Camping:
A short drive from the entrance is the Hodgdon Meadow Campground. This location provides an idyllic setting for campers, with its sprawling meadows and the comforting aroma of pine in the air.
Attractions:
Mark Twain's Cabin: A nod to the literary icon's connection to the region, this cabin offers a slice of history against a picturesque backdrop.
Railtown: Dive into the golden era of railroads and explore the rich history of trains in California.
Hetch Hetchy Reservoir: Arguably the star attraction of this entrance, the reservoir captivates with its grandeur. Encased by towering granite cliffs and the occasional cascade of waterfalls, it promises breathtaking views and tranquil moments.
This entrance, though less frequented, holds a charm that promises a blend of history, nature, and serenity.
Big Oak Flat Entrance
The Big Oak Flat Entrance serves as one of the primary gateways to Yosemite, particularly for those coming from the park's northern areas. Conveniently located, this entrance is intricately tied to the history and charm of the region.
Route & Supplies:
As you approach this entrance, Groveland emerges as a pivotal town for visitors. Not only does it act as a beacon for those looking for a brief rest, but Groveland also provides a variety of stores stocked with essential supplies. From camping gear to foodstuffs, visitors can replenish their stocks before their Yosemite adventure intensifies.
Camping:
For those looking to immerse themselves in nature, the Big Oak Flat Campground lies nearby. Here, the towering oaks, whispering winds, and starlit skies combine to create an authentic Yosemite camping experience.
Attractions:
California's Oldest Saloon: A trip to Groveland would be incomplete without visiting this historic saloon. Stepping in is like journeying back in time, with its wooden interiors and age-old memorabilia telling tales of the Gold Rush era and early California days.
Big Oak Flat Information Station: This station is more than just a place for park information. It provides a rich context about the region's history, geology, and the diverse flora and fauna that call Yosemite home.
The Big Oak Flat Entrance, with its rich history and close ties to Groveland, offers visitors both convenience and a unique glimpse into Yosemite's past.
Arch Rock Entrance
The Arch Rock Entrance serves as a popular entry point for many visitors, primarily due to its proximity to the iconic Yosemite Valley. Its location allows easy access to several nearby towns, each offering its own distinct charm and conveniences.
Route & Supplies:
El Portal is the closest town to this entrance, and it's a handy spot for travelers. Whether you're in need of last-minute camping provisions, a quick meal, or fuel for the journey ahead, El Portal has you covered.
Camping:
For those wishing to stay close to the entrance, El Portal Campground provides a comfortable setting. Nestled amidst nature, campers can enjoy the tranquility of the park while being just a stone's throw away from essential amenities.
Attractions:
Explore Historic Mariposa: A short drive from the entrance, Mariposa beckons with its rich history. Known for its Gold Rush legacy, visitors can stroll through its historic streets, visit museums, and get a feel for California's bygone era.
El Portal's Proximity: One of the prime advantages of the Arch Rock Entrance is its closeness to El Portal. This town, sitting right on the edge of the park, offers a mix of modern conveniences and natural beauty, making it an ideal starting point for your Yosemite exploration.
Positioned strategically, the Arch Rock Entrance ensures that visitors can easily access the heart of Yosemite while also enjoying the neighboring towns and their unique offerings.
South Entrance
For those approaching Yosemite from the southern regions, the South Entrance stands as the primary gateway. Its accessibility, combined with nearby amenities, makes it a favorite among many visitors.
Route & Supplies:
Oakhurst, a vibrant town located near the South Entrance, is a haven for travelers. From fresh groceries to camping essentials, Oakhurst offers a wide range of supplies ensuring that visitors are well-equipped for their Yosemite expedition.
Camping:
Should you be keen on camping near the entrance, the Oakhurst Campground emerges as a top pick. Surrounded by scenic beauty, it offers an ideal spot for both tent camping and RV parking, all the while ensuring that essential facilities are within easy reach.
Attractions:
Train and Horse Rides: One of the unique offerings of the South Entrance vicinity is the opportunity to embark on nostalgic train rides or adventurous horseback journeys. These rides provide a different perspective of the region, making them a must-try for both first-time and returning visitors.
Sleep in Oakhurst: Beyond just supplies, Oakhurst also boasts a range of lodging options. From cozy bed and breakfasts to more upscale hotels, visitors can find the perfect place to rest and rejuvenate after a day of exploration.
The South Entrance, with its proximity to Oakhurst and a plethora of activities on offer, guarantees a comprehensive Yosemite experience, balancing nature's serenity with the comforts of modern amenities.
Tioga Pass Entrance
The Tioga Pass Entrance offers a breathtaking pathway into Yosemite, especially for those who revel in high-altitude adventures. Known for its seasonal availability, this entrance provides access to some of Yosemite's most pristine and less frequented spots.
Route & Supplies:
Lee Vining is the essential pit stop for those using the Tioga Pass Entrance. This quaint town, perched near the eastern boundary of Yosemite, offers a range of supplies. Whether you're in need of camping gear, food, or any other essentials, Lee Vining has you covered.
Camping:
For those looking for a memorable camping experience, the Tuolumne Meadows Campground is a prime choice. Set in a sprawling meadow surrounded by towering peaks, it provides an unparalleled Yosemite camping ambiance.
Attractions:
Mono Lake: Just a short distance from the entrance, Mono Lake stands out with its ancient saline waters and unique limestone formations known as "tufa towers." A visit here offers both serene views and a lesson in geology.
Mammoth Lakes: A paradise for outdoor enthusiasts, Mammoth Lakes is a series of interconnected lakes set against a backdrop of majestic mountains. It's an ideal spot for fishing, boating, and simply soaking in the natural beauty.
Devils Postpile National Monument: This fascinating geologic formation is worth the detour. Marvel at the symmetrical columnar basalt structures, a testament to the earth's volcanic history.
The Tioga Pass Entrance, although seasonally open, promises an unmatched journey into Yosemite's alpine region. With its proximity to numerous attractions and the charming town of Lee Vining, it ensures an experience rich in both nature and convenience.
Which Entrance to Yosemite is Best For Wildlife Viewing?
Yosemite National Park, with its rich biodiversity, is a haven for wildlife enthusiasts. While every entrance offers glimpses of the park's inhabitants, the Big Oak Flat Entrance is often regarded as one of the best for wildlife viewing.
Situated on Highway 120, the Big Oak Flat Entrance provides access to higher elevations and mixed-conifer forests, a prime habitat for a diverse range of animals.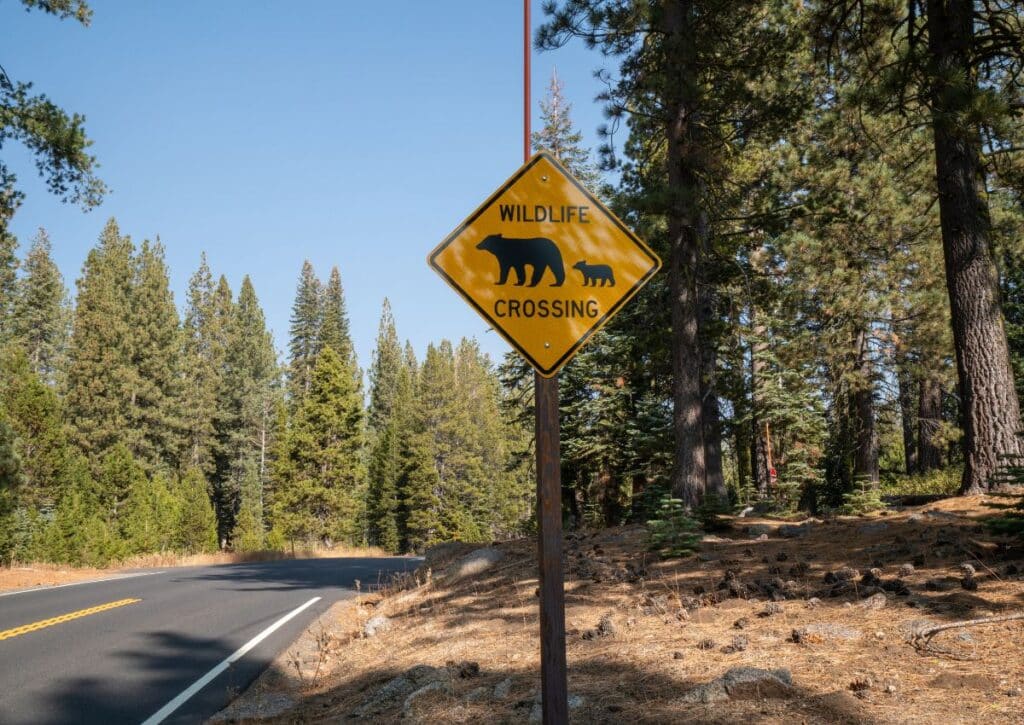 Deer, black bears, and a myriad of bird species, including mountain bluebirds and northern goshawks, are frequently spotted in this region. The varied landscape around this entrance, from meadows to dense forests, ensures diverse habitats conducive to wildlife sightings.
Furthermore, the route leading to this entrance traverses regions less frequented by tourists, increasing the chances of observing animals in their natural settings. Early morning or late afternoon drives can be especially rewarding, as many animals are most active during these times.
While all of Yosemite's entrances offer opportunities for wildlife encounters, the Big Oak Flat Entrance stands out for its richer diversity and the heightened possibility of witnessing the park's majestic creatures in their natural habitat.
Route Suggestions for Yosemite Entrances
Navigating the vast expanse of Yosemite National Park can be both exhilarating and overwhelming. Given the numerous entrances and the distinct attractions each one offers, planning the optimal route is crucial.
Whether you're coming from a bustling city or a scenic byway, the right approach can set the tone for your entire Yosemite experience. In the subsequent segments, we will delve into the most efficient routes to each of Yosemite's entrances, ensuring you take in the maximum splendor with the minimum hassle.
From bustling hubs like Los Angeles to the tranquil terrains of Northern California, let's embark on a journey to chart the best pathways into the heart of Yosemite.
Starting from Los Angeles to Yosemite
For those beginning their journey from the sprawling cityscape of Los Angeles, the route to Yosemite is both scenic and straightforward.
Route:
Take the I-5 North towards Bakersfield, then switch to CA-99 North. Continue on this highway until you reach Fresno. From Fresno, take CA-41 North which will lead you directly into Yosemite National Park.
Suggested Entrance
South Entrance (Hwy. 41): This is the most direct entrance when traveling from Los Angeles. The route not only provides magnificent views but also passes through the charming town of Oakhurst, where you can find supplies and other essentials. As you continue on CA-41, you'll ascend into the Sierra Nevada, catching glimpses of the diverse ecosystems that make Yosemite so special.
This drive, roughly 5 to 6 hours under normal conditions, traverses diverse Californian landscapes, from the central valley's agricultural heartland to the towering, pine-clad mountains of the Sierras. While it's always tempting to hasten the journey to reach the park, do consider pausing along the way to appreciate the ever-evolving scenery and perhaps catch a Californian sunset as you approach Yosemite's majestic gates.
Starting from San Francisco to Yosemite
Embarking on a journey from the iconic city of San Francisco to the natural wonder of Yosemite is a transition from urban splendor to nature's magnificence.
Route:
Big Oak Flat Entrance: Head east on I-80, then merge onto I-580 E toward CA-24/Hayward/Stockton. Continue on I-205 E and then transition onto I-5 N. Shortly after, switch to CA-120 E toward Manteca. CA-120 E will guide you directly to the Big Oak Flat Entrance. This route covers around 195 miles and typically takes about 4 hours.
Arch Rock Entrance: From San Francisco, take I-80 E and then switch to I-580 E towards Hayward. Continue onto I-205 E, merge onto I-5 N, and then take the exit for CA-140 E in Merced. This scenic route, passing through Mariposa, will lead you directly to the Arch Rock Entrance. The drive spans approximately 200 miles and is usually around 4 to 4.5 hours.
Entrance Choice:
Both entrances are viable options from San Francisco. If you prioritize a slightly faster route and access to Yosemite's northern regions, the Big Oak Flat Entrance is preferable.
However, if your focus is on the iconic Yosemite Valley and the historic charm of Mariposa, the Arch Rock Entrance is a splendid choice. Either way, the journey from the bay's urban allure to Yosemite's awe-inspiring landscapes promises a memorable experience.
Starting from Las Vegas to Yosemite
Beginning in the neon-lit city of Las Vegas and journeying to the pristine wilderness of Yosemite offers a stark and fascinating contrast of American landscapes.
Route:
From Las Vegas, start on US-95 N towards Reno. You'll pass through some iconic desert landscapes and historic towns. After crossing the border into California, take CA-266 W, which becomes CA-168 W upon reaching the town of Bishop. From Bishop, head north on US-395 until you reach Lee Vining.
Here, you will take the CA-120 W directly into Yosemite National Park via the Tioga Pass Entrance. The entire journey is approximately 400 miles and can take around 6 to 7 hours, not accounting for stops or potential traffic.
Entrance Choice:
The Tioga Pass Entrance is undeniably the most convenient and direct route from Las Vegas. However, it's crucial for travelers to be aware that this entrance is subject to seasonal closures, primarily due to snowfall.
Typically, Tioga Pass remains closed from the first heavy snowfall in the fall until late spring or early summer. It's always advisable to check the entrance's status, especially if traveling during transitional seasons.
While this route offers breathtaking vistas, from Nevada's arid landscapes to California's alpine beauty, ensure you're prepared for varying road conditions and remember to make the most of the unique landscapes that unfold along the way.
Attractions in Yosemite and Distances from Closest Entrance with Routes
Yosemite National Park is a treasure trove of natural wonders, from its iconic granite cliffs to serene alpine lakes. Understanding the distance and route from each entrance can help in planning your visit efficiently. Here's a guide to some of the top attractions and their proximity to the closest Yosemite entrance:
Yosemite Valley:

Closest Entrance: Arch Rock Entrance
Distance & Route: Once you pass through the Arch Rock Entrance, continue on El Portal Rd (CA-140). It's a straightforward drive of around 20 minutes to the heart of Yosemite Valley.
Highlights: Home to iconic landmarks like El Capitan, Bridalveil Fall, and Half Dome, the Valley also boasts several trailheads, meadows, and a visitor center.

Mariposa Grove of Giant Sequoias:

Closest Entrance: South Entrance (Hwy. 41)
Distance & Route: After the South Entrance, drive approximately 15 minutes north on Wawona Rd to reach Mariposa Grove.
Highlights: This ancient grove houses over 500 mature giant sequoias, including the famed Grizzly Giant.

Glacier Point:

Closest Entrance: South Entrance (Hwy. 41)
Distance & Route: After the South Entrance, take Wawona Rd to Glacier Point Rd. The drive is around an hour to the viewpoint.
Highlights: Offering a panoramic view of Yosemite Valley, Half Dome, and the High Sierra, it's one of the best vantage points in the park.

Tuolumne Meadows:

Closest Entrance: Tioga Pass Entrance
Distance & Route: Once through the Tioga Pass Entrance, you'll be on Tioga Rd (CA-120), and the meadows are about a 45-minute drive west.
Highlights: This expansive subalpine meadow is surrounded by majestic peaks and domes and offers various hiking trails.

Hetch Hetchy Valley:

Closest Entrance: Hetch Hetchy Entrance
Distance & Route: Directly accessible through the Hetch Hetchy Entrance. After entering, follow Hetch Hetchy Rd to reach the main reservoir and trailheads.
Highlights: Lesser-visited than Yosemite Valley, it boasts stunning waterfalls, hiking trails, and the Hetch Hetchy Reservoir.

Olmsted Point:

Closest Entrance: Tioga Pass Entrance
Distance & Route: Located directly on Tioga Rd (CA-120), about 30 minutes from the Tioga Pass Entrance.
Highlights: A viewpoint that offers a unique perspective of Half Dome and the surrounding granite landscape.

Tenaya Lake:

Closest Entrance: Tioga Pass Entrance
Distance & Route: Drive west on Tioga Rd (CA-120) for about 15 minutes from the entrance.
Highlights: A picturesque alpine lake ideal for picnicking, swimming, and hiking.

Yosemite Falls:

Closest Entrance: Arch Rock Entrance
Distance & Route: Once inside via the Arch Rock Entrance on El Portal Rd (CA-140), it's a 25-minute drive to the Yosemite Falls parking area.
Highlights: One of the tallest waterfalls in North America, with an upper, middle, and lower section, it's a must-visit, especially in spring.

Vernal and Nevada Falls:

Closest Entrance: Arch Rock Entrance
Distance & Route: Accessible from the Yosemite Valley floor. After entering through Arch Rock, head to the Happy Isles trailhead to start your hike.
Highlights: Popular hiking destination leading to two breathtaking waterfalls along the Mist Trail.

Cathedral Lakes:

Closest Entrance: Tioga Pass Entrance
Distance & Route: From the entrance, drive west on Tioga Rd (CA-120) for about 30 minutes to the Cathedral Lakes trailhead.
Highlights: Stunning alpine lakes surrounded by Cathedral Peak and other granite formations.
Navigating Yosemite efficiently means understanding the layout of its attractions relative to its entrances. Each route through the park offers distinct experiences, from valley floors to mountaintop vistas.
While this guide provides a foundational understanding, always consider the season, road conditions, and any park advisories when planning your visit.
And remember, the journey through Yosemite is as remarkable as the destinations themselves – take time to savor the beauty along the way.
Best Entrance for Upper Pines Campground
The Upper Pines Campground is one of the most popular campgrounds in Yosemite National Park, primarily due to its prime location in Yosemite Valley near many of the park's iconic attractions.
Closest Entrance: Arch Rock Entrance (Hwy. 140)
Directions & Route: Upon entering the park through the Arch Rock Entrance on Highway 140, you'll be on El Portal Rd (CA-140). Continue on this road into Yosemite Valley. Once inside the valley, follow the signs directing you towards the campgrounds. Upper Pines Campground will be located near Curry Village (also known as Half Dome Village). The drive from the entrance to the campground is straightforward and takes about 20-25 minutes, depending on traffic conditions.
Not only is the Arch Rock Entrance the closest and most direct route to the Upper Pines Campground, but it also offers a scenic drive along the Merced River, allowing visitors to catch their first breathtaking views of Yosemite's granite cliffs and verdant meadows as they approach the valley floor.
Best Yosemite Entrance Itinerary
When planning a trip to Yosemite National Park, selecting the most suitable entrance based on your starting point and interests is crucial. Here's an ideal itinerary that covers the best of each entrance, ensuring a comprehensive experience of the park:
Day 1: Enter through Arch Rock Entrance (Hwy. 140)
Starting Point: San Francisco or anywhere in the central California region.
Highlights: Scenic drive along the Merced River, breathtaking views of Yosemite's granite cliffs and verdant meadows.
Activities: Visit and explore Yosemite Valley, including iconic spots like El Capitan, Bridalveil Fall, and Yosemite Village. Overnight stay at Upper Pines Campground.
Day 2: Explore around South Entrance (Hwy. 41)
Highlights: Nearby Oakhurst attractions, including train and horse rides.
Activities: Visit the Mariposa Grove of Giant Sequoias, take a horseback ride, or a mountain train ride. Overnight in or around Oakhurst.
Day 3: Drive through Big Oak Flat Entrance (Hwy. 120)
Highlights: Visit Groveland, check out California's Oldest Saloon, and stop by the Big Oak Flat Information Station.
Activities: Hike some of the less-traveled trails in the northern part of the park. Enjoy the natural tranquility and potentially spot some wildlife.
Day 4: Explore Hetch Hetchy through Hetch Hetchy Entrance
Highlights: Hetch Hetchy Reservoir, Mark Twain's Cabin, and Railtown.
Activities: Hike around Hetch Hetchy, marvel at the Wapama Falls, and enjoy a serene environment away from the crowds.
Day 5: Adventurous drive through Tioga Pass Entrance (Hwy. 120)
Starting Point: Ideally from the eastern side, like from Las Vegas.
Highlights: Mono Lake, Mammoth Lakes, and the breathtaking alpine scenery of Yosemite's high country.
Activities: Depending on the season, visit Devils Postpile National Monument, take a dip in Mammoth Lakes, or simply enjoy the mesmerizing views along the Tioga Road. Don't forget to check the seasonal availability of this route due to snow.
Day 6: Exit and Wrap-Up
Depending on your next destination, either loop back through another entrance or exit Yosemite from the most convenient entrance. Dedicate this day to last-minute activities, souvenir shopping, or simply soaking in the majestic beauty of Yosemite one last time.
Note: Always check for seasonal road closures, especially for Tioga Pass. This itinerary can be adjusted based on personal preferences, activities, and time constraints.
To Conclude
In wrapping up our extensive guide, we've traversed the ins and outs of Yosemite's diverse entrances, each with its unique allure and offerings.
From the historic and lush surroundings at the Arch Rock Entrance to the high-altitude adventures awaiting at Tioga Pass, we've highlighted the best routes, nearby towns, and attractions to ensure you're well-equipped for an unforgettable Yosemite experience.
Whether you're seeking serene hikes, captivating vistas, or a journey through charming nearby towns, each entrance provides a unique pathway into the heart of Yosemite's outdoor paradise.
So pack your bags, choose your entrance, and step into a world of natural wonders. Yosemite's majestic beauty is calling, and now, you're ready to answer.